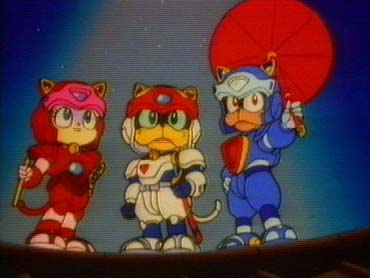 "Tatsunoko vs. CAPCOM: Cross Generation of Heroes arcade fighting game is being developed for this winter in Japan. Like other games in CAPCOM's "Vs." line, the new game will feature characters from the developer's own fighting game franchises such as Street Fighter II's Chun Li (Fumiko Orikasa) and Ryuu (Hiroki Takahashi). However, it will also include characters from Tatsunoko's in-house anime creations, such as Ken (Katsuji Mori) from Science Ninja Team Gatchaman (adapted in English as Battle of the Planets, G-Force, and Eagle Riders) and the title character (played by Daisuke Ono) of the Shinzo Ningen Casshan anime."

SIKE! Marvel vs. Capcom 2 is naar mijn mening de dopeste fighter allertijde maar stamt alweer uit 2000. Aangezien mijn Dreamcast eindelijk een beetje roestig begint te worden: tijd voor wat nieuws!

Dat betekend met een beetje geluk dat je straks met The Samurai Pizza Cats of Bob In The Bottle tegen Ryu, Chun Li en die chick uit Resident Evil kunt battlen. Probleempje is dat het voor de Tatsunoko animestudio wat moeilijker ligt met internationale rechten. Importeren dan? Laten we die nieuwe Street Fighter niet vergeten en we hebben weer wat te spelletjes spelen. Hyper.