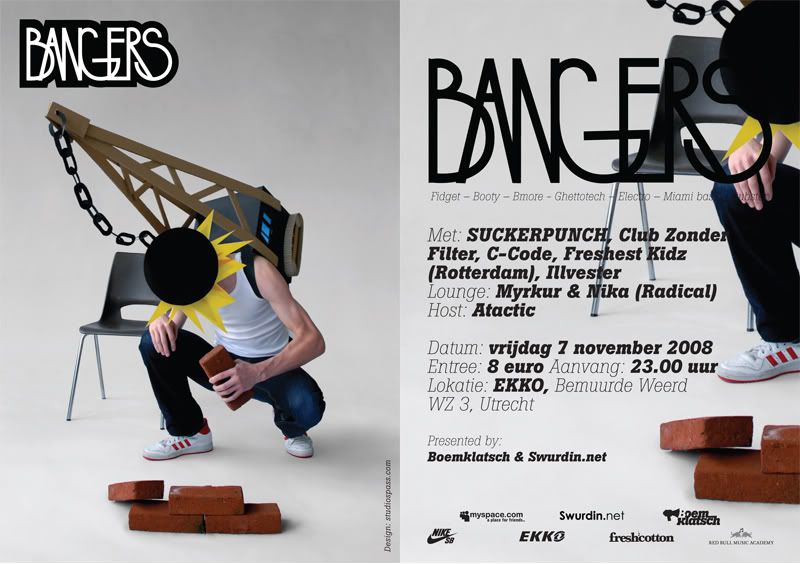 Swurdin.net, Boemklatsch, BANGERS. Die frisse avond waarop steeds zes talentvolle acts, dj's of crews je laten springen en zweten, je Nikes vies maken maar je achteraf met een áán gevoel iemand anders bank of bed in laten rollen. Gevestigde orde en newste namen.

Deze maand weer met een hawte line up. 7 November in de Ekko in Utrecht. 11 uur ben je daar maar dat weet je inmiddels. Wat hebben we in stock? Die heads stellen zichzelf even voor. In random volgorde:

The Freshest Kidz: Jeff & Henno, Muziekliefhebbers, Bboys behind the Decks. Rotterdam.

Illvester: Boemklatsch eigen stampt, propt, duwt alles in één mix tot je niet meer kan ademen. Van de vetste Electro, Baltimore, Booty, Ghettotech, Fidget, Hiphop, Dubstep tot zelfs de dikste indiepop - een grote energieke zooi aan ekte harde bangers!

SUCKERPUNCH: Rory. Dennis. Swurdin.net maar dan live, áán en good to go achter laptops, cd-spelers of wat maar voor handen is.

Club Zonder Filter: Zij gaan voor de "oh die ken ik momentjes" maar schuwen ook een wat moeilijker plaatje niet. Mixen is naar hun mening overrated, maar dat betekent niet dat niet iedere plaat met liefde en gejuich wordt opgezet. Gewapend met een "meisjes zijn de baas" mentaliteit nemen zij iedere tent over.

C-Code: Booty, Baltimore, Breaks, Baile. Maakte die toffe EP met Mike Mago.

Radical (lounge): De Radical crew (bestaande uit Myrkur en Nika) is afkomstig uit de Nederlandse dubstep scene. Samen organiseren ze feesten, hosten een pirate radioshow, produceren ze tunes en draaien/fotograferen ze op verschillende dubstep events.

Daarnaast hebben we Atactic op de hosting en Ramkraak op de visuals. Kom correct want de vorige keer was het ook vol. Die foto's bekijk je trouwens nog steeds hier. Van de week heb ik nog wat gastenlijst om weg te geven.

Thanks trouwens naar StudioSpaß voor die flyer, interview op Fontanel.